Aurora Borealis Forecast and local Weather
The aurora forecast is really not so important as many think. Here at the Aurora Borealis Observatory we care more about weather forecast. The aurora forecast is basically just a prediction and you alway need a clear sky to see the aurora borealis. We are located on one of the best locations in the north when it comes to clear skies and therefore we care mostly about weather. If the weather is good and we have clear skies then we normally see the aurora 9 out of 10 days. Read More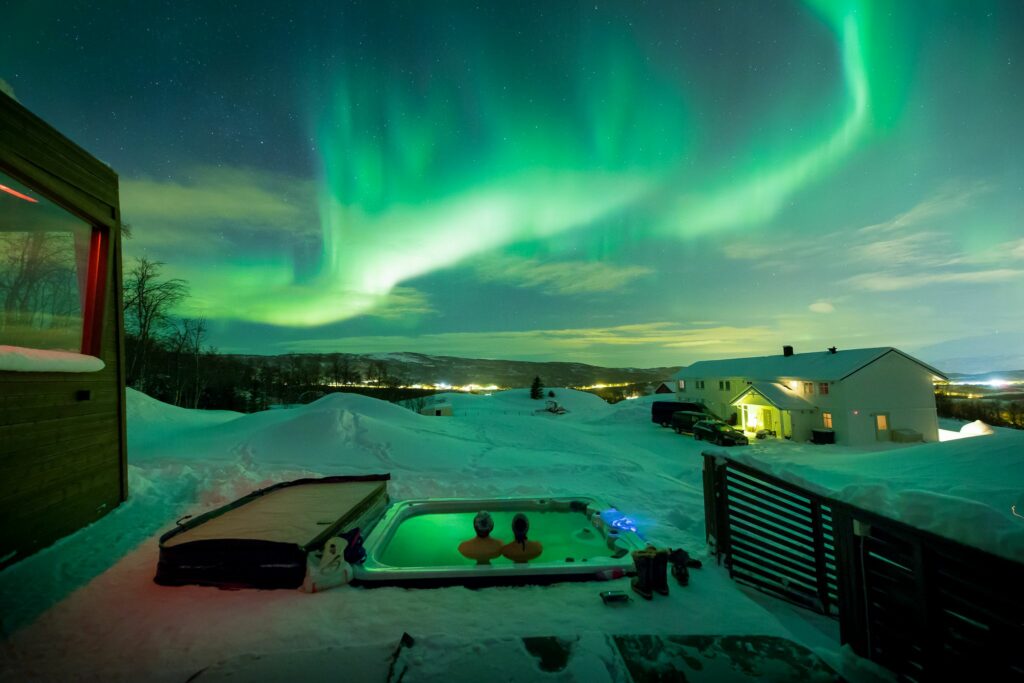 Live Aurora Camera North - Same view as above picture
NB: More and more data and aurora cameras will be added
Aurora forecast prediction
Moon phase vs aurora forecast vs weather forecast
Visible part of the moon: 26%
Current moon phase: Waxing Crescent

A clear sky is all we need
Can I use the Kp for aurora chasing or forecasting? 
The short answer is NO. Despite popular belief, the Kp index is not a good source for aurora forecasting and nowcasting. There are several reasons why. Sometimes the different services will provide a Kp forecast for the next hour, 3 days or sometimes month! We cannot stress enough that these forecasts cannot be trusted with certitude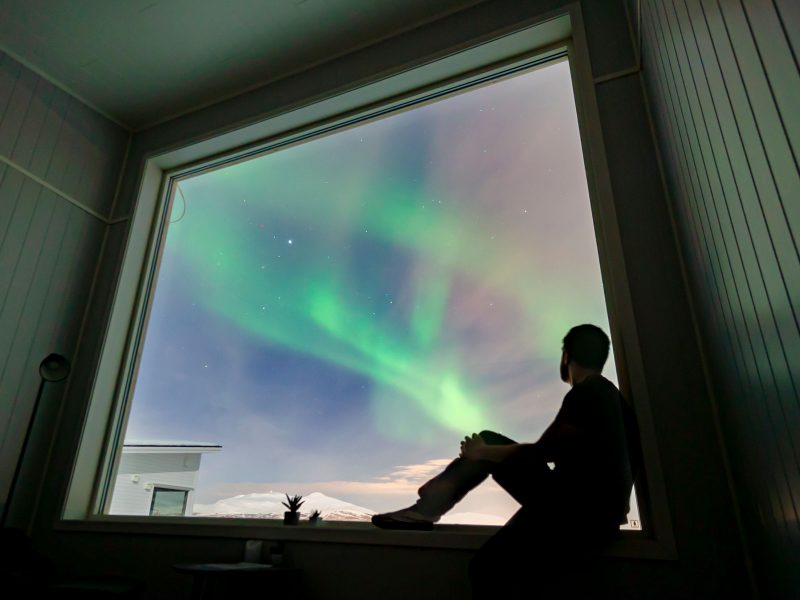 Watch Aurora from the apartments
The aurora forecast is really not the most important. The most important is weather forecast and a clear sky. All our apartments have big windows so you can easily wait inside and simply go out when the aurora borealis appears.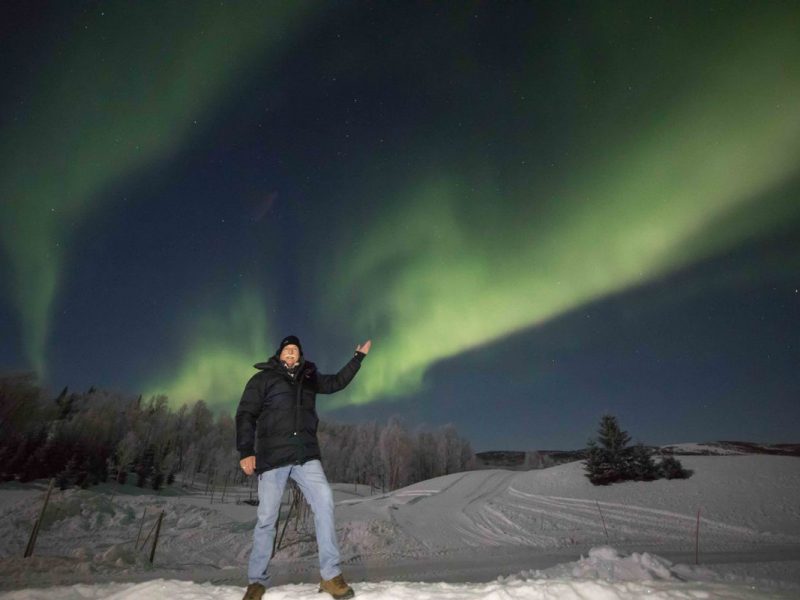 Enjoy the Aurora Outside
The aurora borealis can sometimes be visible for many hours. Sometimes it is different and the aurora disappear and you have to wait again. No aurora forecast can tell how the evening will be. Therefore we make sure that all guests get alerts when the aurora dance again.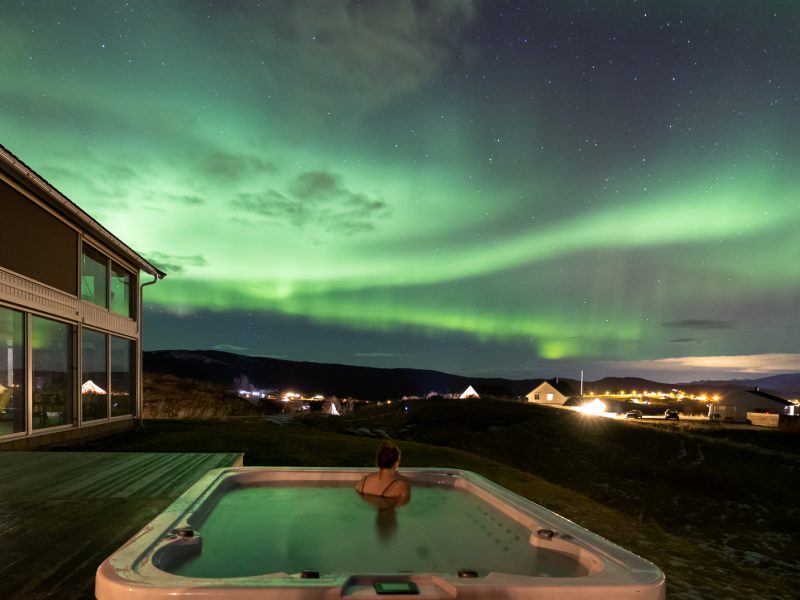 Outdoor Hot Tubs
Sometimes the aurora forecast and weather forecast simply just play along and puts on a good and long show. Then it is perfect to go into the hot tubs for an amazing aurora borealis experience. This is always possible here at the Aurora Borealis Observatory.
Northern Lights Activities at the aurora borealis observatory
Combine relaxation and great fun
One of the best aurora borealis locations in the world
Aurora Forecast and weather forecast – Only predictions
Our main goal is that you can see the aurora while staying here. Most people think that the aurora forecast is the most important thing. Well, it is NOT. most aurora forecast are just predictions. We honestly only care about normal weather forecast and if we have a clear sky we see the aurora borealis 9 of 10 days. While being here you can also explore the culture of Senja Island and enjoy many other activities. Enjoy the silence and lovely atmosphere where your well-being is in focus. Our goal is to create the best Aurora Borealis experience. 
After all Northern lights activities you can enjoy a warm soup, hot chocolate, espresso, a glass of wine etc. Simply walk down to our Bar or Tipi Lounge and enjoy the rest of the evening. This is by far one of the best ways to relax after a long day with amazing experiences.
Northern Lights Activities on Location / Handled by ourselves
Since we are located on a small little hill with amazing surroundings we also offer on location activities. You can enjoy Photo classes, learn about astronomy and aurora, go on hikes to our different viewpoints, simple skiing when we have snow and start the national scenic route from here. If you want to experience the city of Tromsø we recommend a day trip, as this is super simple in terms of logistics.
In our own restaurant & bar we also offer relaxing but great concerts now and then.
Northern Lights Activities provided by our collaborators
For those who wants more action we are also proud to say that we can offer the best providers in the nearby area. We only offer the most popular ones and all our collaborators will pick you up before the activity, and bring you back to the resort after. Most popular activities from our collaborators have been husky, mountain hikes and snowmobile.  
Aurora Live
Make sure you check out AUORORA LIVE for more detailed aurora forecast and predictions.