Devils teeth Senja´s photographers paradise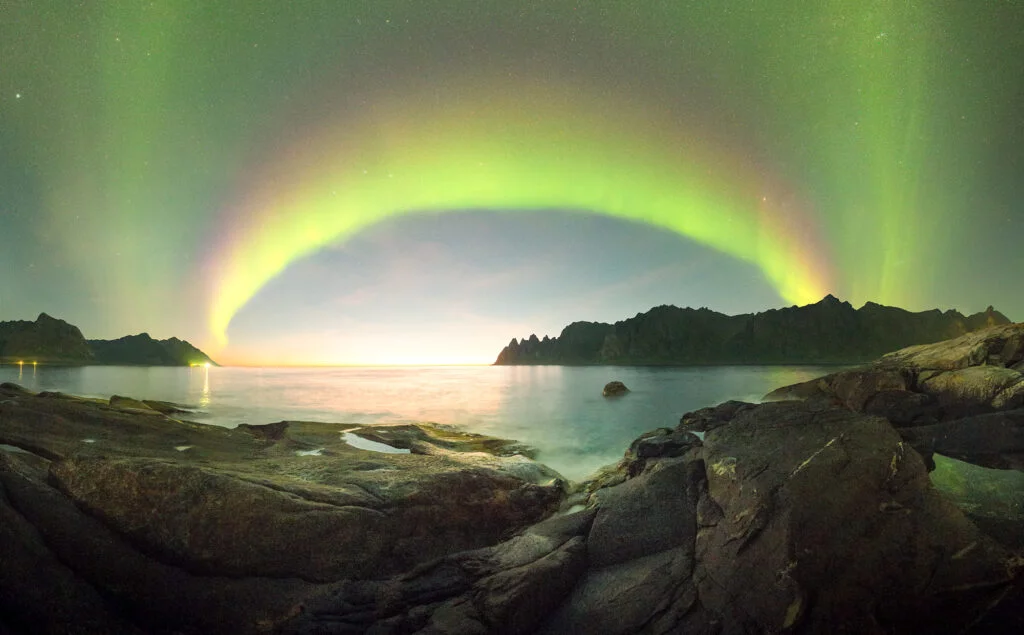 As 'Norway in miniature', Senja island harbors many spectacular viewpoints for photographers alike. One in particular is called 'photographers' paradise', and here's why you should definitely visit it.
Senja island is Norway's second largest island. It was dubbed 'Norway in miniature' because it possesses all the different landscapes of the country. Believe it or not, within a few kilometers you can find mountains, fjords, white-sand beaches, highlands and wildlife sanctuaries. Senja offers a wide variety of sceneries and activities but there is one place in particular that stands above the rest. And for good reasons! It's called photographers' paradise.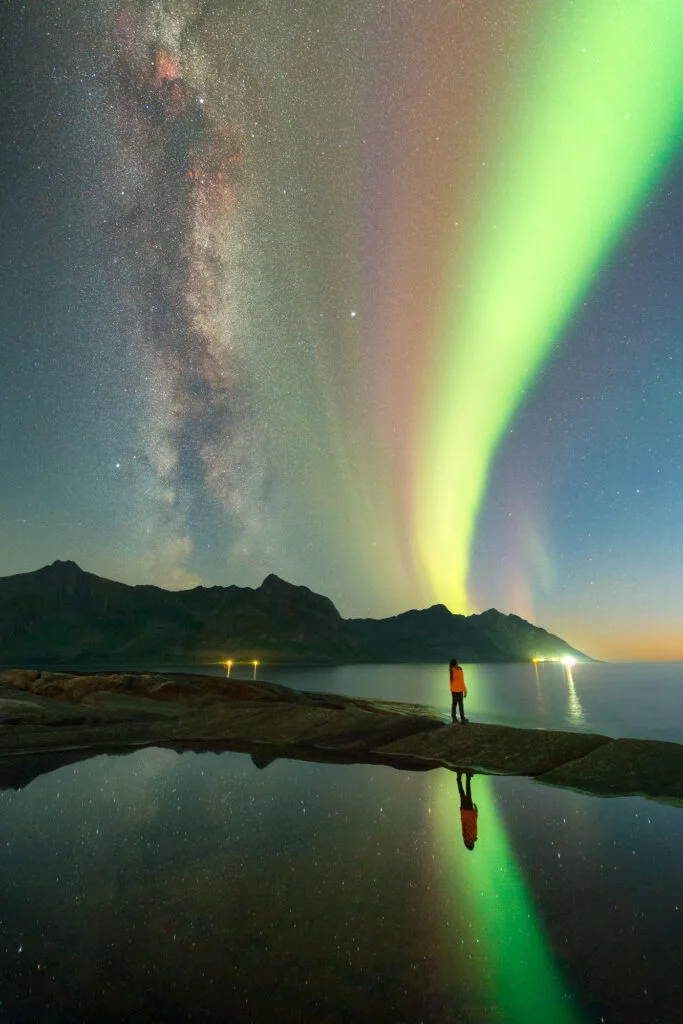 Tungeneset is a charming place stuck between two of the western fjords of Senja: Ersfjord and Steinfjord. It's very easy to access by car since it is located right off the main ring road around the island. Since the county invested into making this spot a major landmark, Tungeneset has gotten a large parking lot for cars and RVs, toilet facilities (closed in the winter), and a modern wooden bridge to access the site. The bridge is quite peculiar in itself. Its color and shape were meant to integrate it perfectly with the decor, as a smooth transition between the land and the waves.
'Nes' means nose in Norwegian. It's a geographical term often used to describe the end of a mountain ridge oriented towards the sea and separates two fjords. A 'nes' is often a rocky prominence with a sharp angular shape as seen it from above, much like a nose. The rocky nature of such a landmark makes up all its originality. However Tungeneset is one of a kind in a sense that its shore has been carved by ice and erosion. All that's left today is a wide flat-like area made of huge polished granet and metamorphic bedrock. When the stone is dry, it takes on light grey and pink tones. When the rock is wet- which is often the case, it turns almost basalt-dark!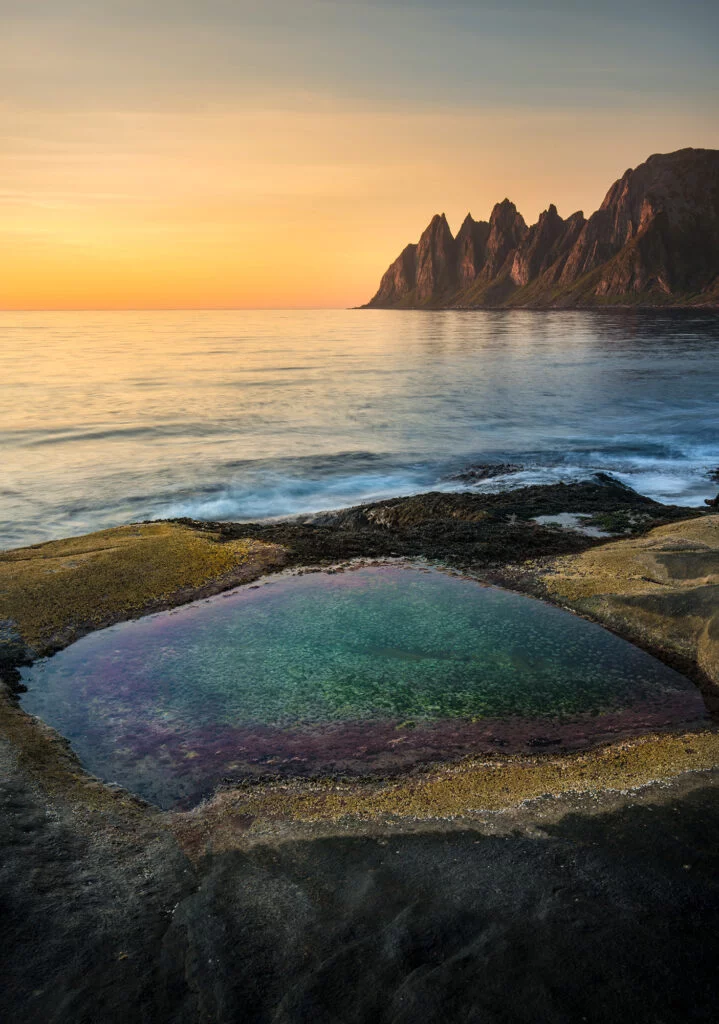 Tungeneset at sunset
The crashing waves and the stream running down the mountain side progressively dig water puddles of all sizes and shapes. The ones closer to the shore harbor an ecosystem that gives colors, which vary with the depth of the water. These bodies of water are probably why many photographers from around the world are drawn to this place. When there isn't too much wind, their surface remains very still. In turn, it acts as a perfect mirror. It's perfect for low-angle shots, allowing you to get the reflection of either the sky or mountains in the background. However if you want to get the colors of the organisms living in these crevasses, you will have to use a polarizing filter.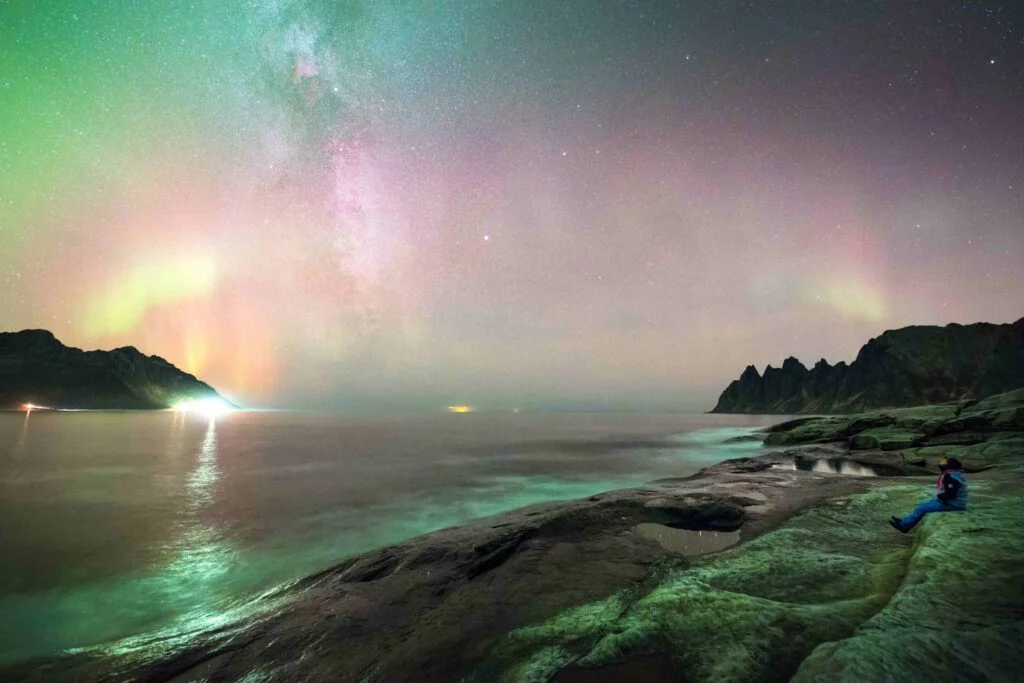 Every now and then, you can see a curious seal or sea otter stick out its head out of the water. In the winter, there can be killer whales as well. Nevertheless most people come to Tungeneset because of its landscape. There is everything a landscape photographer could possibly dream of. In just a single shot, you can can potentially get a combo such as water reflection, rocky foreground, sea water, jagged-edged mountains, aurora, milky way or sunset. It's also the best place to view the Devil's Teeth from. These are one of Senja's most iconic mountains. They're made of a series of sharp peaks rising straight up from the fjord. Under special conditions, the Devil's teeth cast striped shadows on Ersfjord.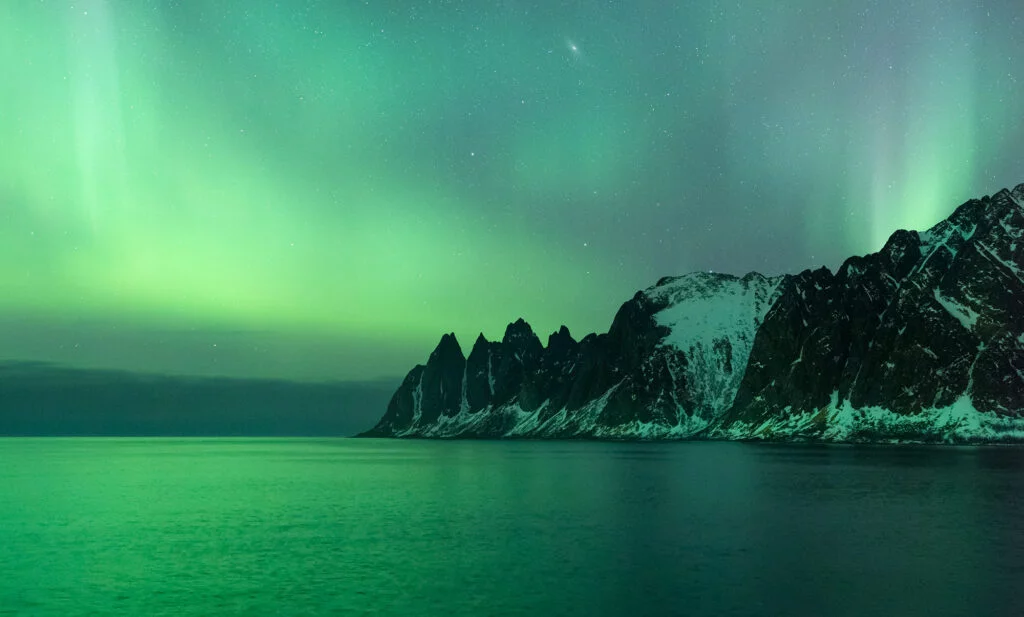 Devils teeth Senja´s photographers paradise under the Northern lights. The Andromeda galaxy is visible above the peaks. Notice the shadow cast by the mountains and the pillar-like symmetry of the shot.
Tungeneset is accessible year round. In the wintertime though, you need to be very careful when strolling about the rocky slopes. In addition to the ice and wet snow, there's a special kind of bacteria that grows in wet areas and produce a slime that is extremely slippery. It's thus recommended to bring spikes with you to avoid slipping and falling in the freezing water. If you want to spend time at night to take pictures of the aurora, we can't recommend enough safety. It's paramount to have scouted the area by day first to identify the potential risks. When you keep that in mind, you can enjoy the very special atmosphere that Tungeneset has to offer!
Are you ready to go visit the Devils teeth Senja´s photographers paradise. At the Aurora Borealis Observatory you are just minutes away. And while waiting we suggest you try out Fjösn Restaurant & Bar – Amazing!